By Shujauddin Qureshi
Today is the death anniversary of a renowned Sindhi leader, head of the Sindh Hari Committee and social reformer Comrade Hyder Bux Jatoi. He was certainly an undisputed Sindhi nationalist leader and spent his entire life for the rights of the downtrodden people of Sindh. His admirers call him "Baba-e-Sindh" (Father of Sindh). He was a prolific writer and poet.
Jatoi not only took an active part in the passage of the only piece of legislation for Haris (peasants) called the Sindh Tenancy Act 1950, but he also supervised its implementation in the entire Sindh. He remained chairman of the Sindh Hari Committee from 1943 till his death in 1970.
Comrade Jatoi also participated in the struggle against the One-Unit struggle in the 1960s, when the Pakistani military rulers abolished four federating units (provinces) in the western part and made one unit of West Pakistan to bring parity with East Bengal which was named East Pakistan to usurp the rights of Bengali people, who were in majority in Pakistan. Sindhis in the Western part did not accept this decision and continued to struggle against One Unit and for the restoration of the boundaries of Sindh province.
Born in village Bakho Dero in Dokri Taluka, Larkana district Comrade Jatoi 1901 completed his primary education at a school in a nearby village and then passed the Sindhi vernacular"Final" examination in 1918. He passed Matric from Madressatul Islam School in Larkana in 1927. He won his first position in Sindh at the matriculation examination from Bombay University in 1923.
He then was admitted to D. J. Science College Karachi from where he passed B.A (Honors) in literature and won distinction in Persian from Bombay University in 1927. Jatoi joined civil service and was appointed as Mukhtiarkar of Badin in 1931. He worked as a Special Recovery Officer of Cooperative Societies between 1943-44 and was promoted as Deputy Collector. During Hur Movement in 1944, he was appointed as Judge for the Special Military Court, where he refused to award capital punishment to two Hurs. He had to resign from his government job in 1945 and he dedicated his remaining life to the rights of Sindhi peasants.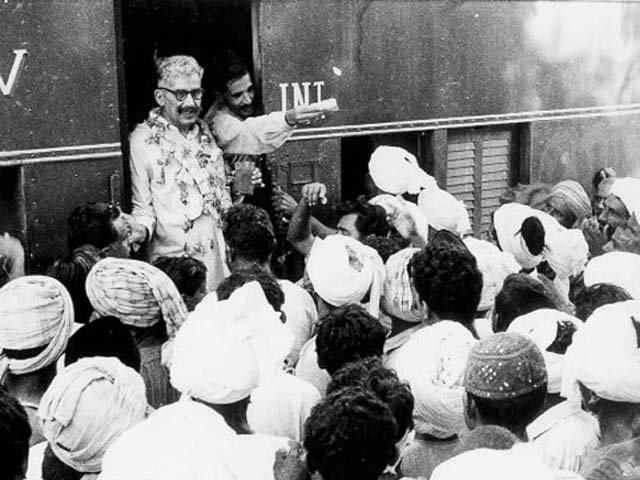 Dr. Akmal Hussain writes in his PhD thesis: "One of his (Jatoi's) major contributions was his successful management of continuously publishing famous daily Hari Haqdar, (organ of the movement). In the newspaper, the atrocities employed upon the women and children of the peasantry folk were highlighted and the financial exploitation of Haris at the hands of Sahukar (money lender) was also unveiled.
Major credit goes to Hyder Bux Jatoi for organising Sindhi Haris. He constituted Hari Committees at district and Taluka levels and organised Hari Conferences and Hari rallies in small and big cities of Sindh. Between 1945 and 1947 he started a movement for the implementation of half-sharing (اڌ بٽئي) of agricultural crops, which was successful across the province.
Hyder Bux married his cousin at the age of 27. They had five sons, Mustafa, Mazhar Ali, Dadan, Hatim and Murtaza. Jatoi died on May 21, 1970 at Hyder Manzil, Hyder chowk in Hyderabad. He is buried inside the courtyard of the tomb of Ghulam Shah Kalhoro in Hyderabad.
He contributed his writings in Sindhi and English. Following are some of the publications or write-ups/posters published so far.
(تحفة سنڌ (شاعري-1930ع
(آزاديءِ قوم (شاعري- 1943ع
(هاري ڪهاڻيون( نثر 1950ع
(هاري انقلاب (نثر: 1953ع
(هاري گيت (شاعري 1951ع
(ڪمدار جا ڪارناما (ڊراما 1953ع
Democracy and Dictatorship in Pakistan (English 4 parts 1955)
Democracy and Justice by Chief Justice (English 1956)
Unjust Land Assessment Rates (English 1957)
Sindhi Language Stay in Karachi or not (English 1957)
Lands in Sindh: Who Should Own Them (English 1957)
Disposal of Evacuee Properties (English 1957)
One Unit and Democracy (English 1962)
Translation of Holy Quran in English
A few verses from his famous poem Jeay Sindh
For this write-up help is sought from the following Websites/links: