By Muhammad Habib Sanai
The morning of 20th February 2019 brought the sad news of the death of Soz Halai, the prominent Sindhi poet. Soz Halai (December 5, 1937 – February 20, 2018) was the best amalgam of modern and classical strands of poetry and a true music aficionado.
Born in a village near New Hala in the Matiari district of Sindh (Pakistan), in a literature and music-loving family, his mother despite being untaught, had memorized the entire Risalo of Shah Abdul Latif Bhitai, which is proof of the family\'s affection with poetry and music. Soz\'s elder brother Mohammad Ibrahim was a good vocalist and learnt that art from renowned maestro Deen Mohammad Shaikh.
That cultural ambience invariably influenced him and he not only became a regular listener of musical renderings on the radio, but also he used to attend musical gatherings of renowned vocalists being held in the vicinity of his village, which was near Hala. Also since childhood, he developed a passion for poetry and he composed his first verse when he was only 12 years old.
In 1950, he passed the Vernacular Sindhi Final examination after seven years of schooling and got admission to a local middle school run by the local government. But after one year he discontinued his education as he could not afford the expenses of travelling to and from New Hala. At that time jobs of vernacular school teachers were easily available in government schools, so he applied for a post. But he was refused the job on the pretext that his height was low.
To earn his bread and butter he did odd jobs. He not only worked as a labourer in a mill where a sweet dish made from rice called Peenhoon was prepared. He also did a job at a shop of beeri (local cigarette) making.
In his autobiography Kawee jee Kathaa (Account of a Poet), published in the year 2008, he recalled that his old class fellow Shri Thaanwar Das, the great-grandson of Sufi poet Assuram, was in constant touch with him in those torturous days and used to exhort him to sit in the examination of Matric as a private candidate. Das advised him to enrol first in the course of Adeeb Sindhi being conducted at Al-Khaliq Literary Institute, Hala affiliated with Talibul Moula Oriental College, Hala. Thus he enrolled in that course, which not only honed his skills as a poet and prose writer but also made him a permanent member of the literary circle of Hala, whose luminaries were Makhdum Talibul Moula, Ghulam Halai, Anwar Halai, Hameed Shaheed, Dr. Suleman Shaikh, Mansoor Weeragi etc. During the 60s Hala was the main cultural hub of Sindh and every week mushairas (poetry symposiums) used to be held at various places.
He passed that examination and later passed Adeeb Alim with flying colours. Then he passed matric as a private candidate. His old class fellow Shri Thanwardas used to teach him English and other subjects.
In 1963, he joined Tapedari Training School for the training of Tapedar (Revenue Record maintaining official) at Johi in Dadu district. But after passing that course he could not get a job at Tapedar for the next four years. In 1968 he got a job as Tapedar. After six years he became a clerk in the Revenue and retired as Assistant Mukhtiarkar (Tehsildar).
When Soz was posted at Matiari, he came into contact with Syed Muhammad Zaman Shah, who was a great supporter and patron of classical singers and instruments. At that time parents of Abida Parveen were living in Matiari town under his patronage. Soz claimed that he facilitated the entry of Abida Parveen into Radio Pakistan, Hyderabad with the help of his friend Mr Ghulam Hussain Shaikh, a producer at Radio Pakistan's Hyderabad station, who later married Abida.
Soz Halai's favourite vocalist and music composer was Ustad Muhammad Juman, who was mainly ignored and his skills were unrecognized. To give him his due standing in the galaxy of Sindhi Music, Soz wrote a book Karoon Was kayam, (Made a lot of Entreaties) published in December 2003. In this book, on one hand, he tried to delineate the high status of Ustad Juman in Sindhi music, on the other, he claimed that it was Ustad Juman, who composed melodies of Shah Abdul Latif Bhitai in its true spirit and also discovered and designed melody of Kohiyari of Shah Latif.
In that book, he also wrote about the history of Sindhi music. He also compiled writings about Ustad Juman, including interviews of the late maestro, whose manuscript was gathering dust in the offices of higher-ups of the Sindh government\'s Culture Department.
Last year his other prose book titled Saaz an Awaaz (instruments and sounds) was published by the Institute of Sindhiology, Jamshoro, which contained profiles of around 100 classical, and semi-classical vocalists, folk singers, instrumentals from Ustad Ashiq Ali, Ustad Bade Ghulam Ali to Allahdino Noonari, Master Chander, Mai Baghi to Dhol Faqeer, Ustad Majeed to Ustad Nazar Hussain, Ustad Muhammad Juman, M Ibrahim to Seengar Ali Saleem. This book is indeed a cultural history of the 20th century of Sindh and Pakistan.
Soz\'s first passion was poetry. His first poetic anthology titled Darshan Daro Dhaar, was published in 1981, which elevated him as a poet of Sindh from the poet of Hala. In 1992, his Second anthology Rang Rata Pechra was published, which made him the most prominent contemporary poet of Sindh, especially of the vanishing genre of Kaafi. As such he is remembered as one of the pioneers of modern Sindhi Kaafi.
For the last few years, he has been waiting for the publication of his third anthology Man Under jee Mosam (Seasons of Heart) lying with the Sindhi Adabi Board. His various gazals, geets and national songs have been sung by a good number of vocalists, and are regularly aired on various radio stations in Sindh.
Following Gazal sung by Ustad Feroz Gul  (https://soundcloud.com/akbar-ideas/bahaaran-men-na-milyasee-poet-soz-halai-feroz-gul) is one of his most famous songs, aired on Radio Pakistan.  
بهارن ۾ نه ملياسين، خزان ۾ هاڻ ملنداسين
 اکين ۾ اشڪباري جي کڻي آلاڻ ملنداسين 
 Could not meet in spring, in autumn we would meet,
 With dripping eyes, we would meet.  
ڏکڻ جي هير ٿڌڙي ۾ ملي وڇڙي وياهاسين
اتر جي اوت ۾ پيارا پرين پڪ ڄاڻ ملنداسين
Had lost each other in the cold air of the South,
With north air wafting, sure we would meet.
الاجي ڇو نه ٿيون دل کي وڻن چانڊوڪيون راتيون
 اسين تارن جي ڇڻيل ڇاٽ ۾ تو ساڻ ملنداسين 
 Why not relishing moonlit nights, don't know, 
 Under the glittering light of stars, we would meet. 
لڪائي لڙڪ اينداسين سجائي مرڪ وينداسين
 ڏئي نيڻن کي نئين سر نينهن جي نرواڻ ملنداسين 
 May come hiding tears, would depart with smile, 
 Giving new hope of love to eyes, we would meet. 
ڪهين نا آشنا وانگر ڀلائي تو ڇڏيو جيڪر
 ته پوءِ مٺڙا محبت جا ڏئي اهڃاڻ ملنداسين 
 If you had forgotten me like stranger, 
 Then presenting old signs of love, we would meet. 
حياتيءَ جي وفا ڪئي "سوز" پوريون حسرتون ٿينديون
 جي ملنداسين ته محبت کي ملهائي پاڻ ملنداسين. 
 If life goes on, yearnings could be realized, 
 If could meet, then rejoicing love, we would meet. 
On February 20, 2020, there is the second anniversary of the late Soz Halai
About the Author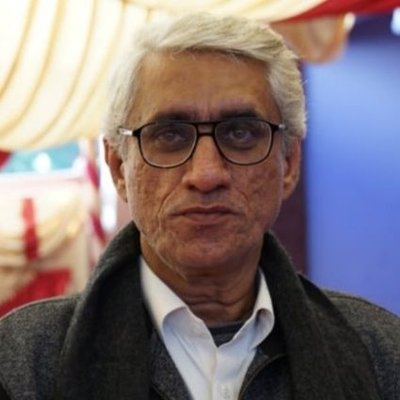 Mr. Muhammad Habib Sanai is a writer, researcher, translator and trainer. He lives in Hala Sindh. He can be reached: habibsanai@gmail.com His FaceBook and Twitter Accounts.