In a sudden and surprising move, the central bank announced today to further reduce the policy rate by 200 basis points (bps) to fix at in a single digit @ 9 per cent. The Monetary Policy Committee (MPC) of the State Bank of Pakistan in an emergency meeting on Thursday announced the cut in the policy rate, which is the third in a row in less than a month.
"This reduces forward-looking real interest rates (defined as the policy rate less expected inflation) to around zero, which is about the middle of the range across most emerging markets," the Monetary Policy Statement issued by SBP Thursday stated.
The MPC was of the view that this action would cushion the impact of the Coronavirus shock on growth and employment, including by easing borrowing costs and the debt service burden of households and firms, while also maintaining financial stability. It would also help ensure that economic activity is better placed to recover when the pandemic subsides.
The MPC noted the worsening outlook for global and domestic economic activity in the wake of the Corona pandemic. Given the unfolding situation, the MPC noted that it "remains ready to take whatever further actions become necessary in response to the evolving economic impact of the Coronavirus," the statement said.
The world economy is expected to enter into the sharpest downturn since the Great Depression, contracting by as much as 3 per cent in 2020, according to projections released this week by the IMF. This is a much deeper recession than the 0.07 per cent contraction during the global financial crisis in 2009. Moreover, there are severe risks of a worse outcome, the statement said.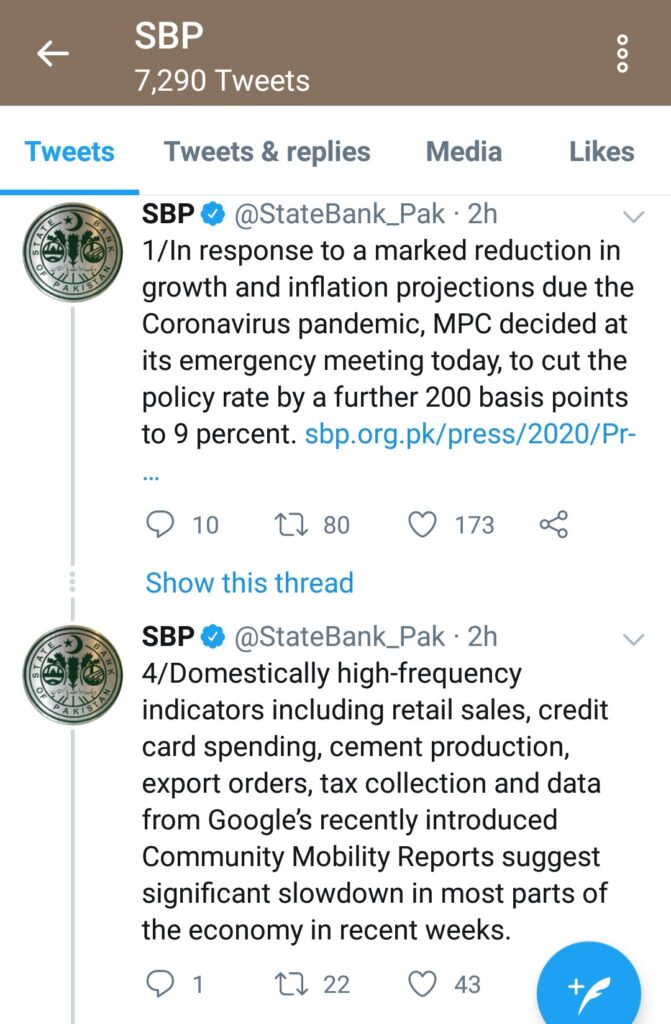 Despite the fact it was a longstanding demand of the traders to reduce the interest rate, this cut would affect the savings, as the profits on bank savings and terms deposits would be slashed down in the same proportion.
The traders have welcomed today's decision of SBP.
Last time, the central bank had announced a cut in the policy rate on March 17 after a long four-year period by slashing 75 bps to 12.50% citing a declining inflationary pressure and a need to sustain the economy that was hit by the coronavirus crisis. This reduction was termed a meagre by the businessmen who rejected it.
Due to mounting pressure, within one week later on March 24th the SBP again reduced the rates by 150 basis points to 11 per cent stating that the COVID-19 pandemic had caused major disruptions to economic activity and the IMF had also significantly downgraded its global growth outlook for 2020 from 3.3% growth previously to below zero.
The banks were paying over 12.5 per cent per annual interest rate on one year or more fixed/term deposits before March 17, which was reduced to 10 per cent per annum when the policy rate was reduced to 11 per cent on 24th March.